5mm+1.52+5mm extra clear or tinted toughened laminated glass
Product Introduction:
5mm+1.52+5mm extra clear or tinted toughened laminated glass
Glass name: 11.52mm factory toughened laminated glass
Laminated monolithic glass thickness: 6mm 8mm 10mm 12mm 15mm
Laminated glass middle layer thickness(mm): 0.38 0.76 1.12 1.52 1.9 2.28
Laminated thickness: 5+1.52+5, 5 5 4
Glass type: float glass, toughened glass, laminated glass, low iron glass
Product details
BTG 5mm low iron+1.52+5mm extra clear toughened laminated glass
Laminated glass sandwich glass is made by 2 or more glass with 1 or more layers of organic polymer interlayer film, after dealing with high-temperature pre-pressing (or vacuuming), high temperature, and high-pressure process, the glass, and interlayer combined permanently.
Laminated glass with optical glass design
1. Low-E coating glass
2. Reflective coating glass
3. Tinted glass
4. Monolithic glass
5. Insulated glass (IGU)
6. Glass film type and color optional (PVB EVA SGP)
7. Toughened glass
8. Frosted glass
9. Gradient glass
Laminated glass Characteristics
Toughened laminated glass is a safety glass, which has widely used in building, window, door, etc.
1. Safety glass. Even if the glass is damaged by an external force, the debris will be a honeycomb-like dull small particle, which is not easy to cause serious damage to human body.
2. Glass laminated has sound insulation
3. Energy-saving.
3. Modernization. Compared with monolithic glass, the toughened laminated glass is modernized and safety.
Application of laminated glass
1. Toughened laminated glass for window
2. Toughened laminated glass for door
3. Façade toughened laminated glass
4. Bathroom toughened laminated glass
5. Partition toughened laminated glass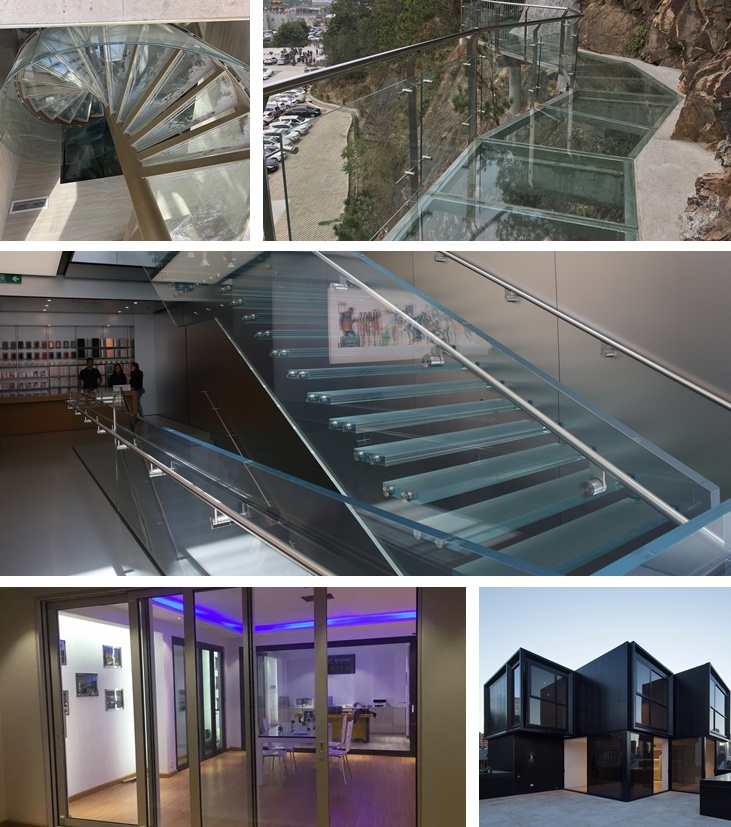 Specification
Glass brand name: BTG Better Glass
Glass thickness: 5mm+1.52pvb+5mm
Glass size: customized maximum: 2440mm*6000mm
Glass shape: low iron curved toughened laminated glass, square toughened laminated glass, rectangle toughened laminated glass, flat toughened laminated glass. The glass shape can be customized.
Other colors: clear, crystal grey, light green, ford blue, ocean blue, crystal bronze, black.
Certification: BS6206/EN12150/CSI
Packing: All toughened laminated glass packed in safety strong Polywood crate banded with steel strip, suitable for ocean and land carriage.
1. Put cork between two glass.
2. The crate has space for forklift loading and unloading.
Delivery time: 8-10days
If you want to know more information about BTG company, please click the link as below: